What Is PTSD?
Post traumatic stress disorder (PTSD) is a mental disorder that can develop after a person is exposed to a traumatic event, such as sexual assault, warfare, traffic collisions, or other threats on a person's life. Symptoms may include disturbing thoughts, feelings, or dreams related to the events, mental or physical distress to trauma-related cues, attempts to avoid trauma-related cues, alterations in how a person thinks and feels, and increased arousal. These symptoms last for more than a month after the event. Young children are less likely to show distress but instead may express their memories through play. Those with PTSD are at a higher risk of suicide.
Many who have served in a war zone carry deep emotional wounds that go beyond the typical symptoms clusters of re-experiencing, avoidance/numbing and hyper arousal that comprise a diagnosis of post raumatic stress disorder (PTSD). (Keenan, Lumley, and Schneider 2014)
Specifically, many combatants experience unresolved grief, guilt, and shame caused by losses and traumatic experiences suffered in war, called "moral injury" by some clinicians and researchers (e.g. Litz et.al 2009, Shay, 1994). The experiences of Combat Veteran produce deeper and more intense symptoms.
Benefits Of Ballroom
The benefits of ballroom dancing are easy to realize. Fun, exercise and meeting people are natural outcomes of social dancing. Dancing opens doors at social events and private functions. People of all ages can learn to dance. Students from 18 to 80 have learned to dance in a fun and easy way using the World Famous Arthur Murray® teaching method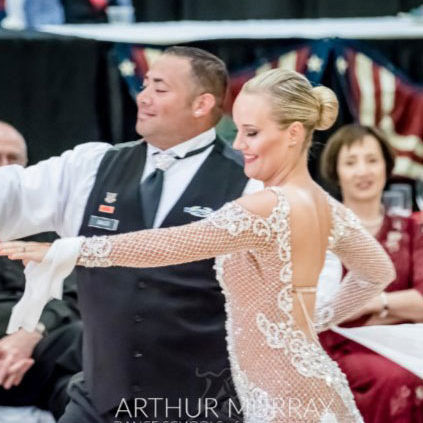 It All Started With One
Debbie Simpson is a Retired 30 Year Army Colonel who has seen first hand the benefits of partner style dancing to treat her own PTSD. Alternative treatments created a retrack for anxiety response and improved memory. Debbie has a career as a Military Medical Personnel who specialized in trauma and Critical Care; she has worked with both active duty and currently veterans with PTSD and/or TBI.